Insurance claimants face voucher confusion
By Susannah Streeter
Business reporter, BBC News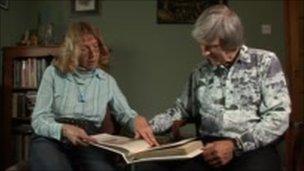 Insurers are being asked to be more open about the use of vouchers or prepayment cards for paying claimants.
The issue affects people who make a claim on a home insurance policy for lost, stolen or damaged items.
The claimants are increasingly told to go to certain retailers when buying a replacement.
This has surprised some people who had expected their claims to be settled with a cheque, allowing them to buy a new item from a shop of their choice.
Those who do demand cash payouts have also found that insurers are within their rights to deduct ''suppliers' discounts'' from the final settlement.
Last September Liz Strevens from Aylesbury lost her wedding ring at Gatwick Airport.
A few weeks later she and her husband Tony bought a cheaper replacement for £295.
They then filed a claim for the original 1975 ring through their home insurance policy.
They enclosed a receipt for the new ring and pictures of Mrs Strevens wearing the old one, which was of a considerably higher quality than the replacement.
"We expected a cheque but to our surprise received a prepayment card for £220 to buy another ring," says Mr Strevens.
"We looked to see what the £220 would have bought us with the specified retailer and it quickly became clear that we had not got fair value for the ring which we had lost.
"Our insurer did then offer us the £220 in cash, but we realised the original ring was more valuable,'' he adds.
Mr Strevens then found a picture of a similar ring in an old brochure and sent in a quote from a local jeweller to remake it for £660.
''Our insurer then told us their supplier could remake the ring for £430," he says.
"But if we still wanted a cash settlement, they would reduce that amount by another couple of hundred pounds to take into account the discount they would have received from the retailer.''
The insurer in this case, HSBC, says it has been fair.
It gave Mr Strevens two options - to keep the ring he had bought plus £220 in cash, or to return the £220 and opt for the ring to be made.
HSBC stresses that it is always best to contact your insurer before replacement goods are purchased.
That is because in many cases the retail price on the High Street will be considerably higher than the price an insurer can obtain from its preferred supplier.
Mr and Mrs Strevens contacted the consumers' association Which? who have had other complaints about the use of preferred suppliers by insurers.
''It may be OK if the policyholder wants to replace a standard television for example," says James Daley from the consumer group.
"But if it's a specific piece of jewellery or an unusual piece of furniture, you will often not be able to find what you want from a High Street retailer."
Mr Daley says it is not good enough for insurers to say, "It's in the small print."
He says: "They need to be letting their customers know right upfront, if they make a claim, that's how it will be paid out, not simply told they have to go to another shop of the insurer's choice."
Malcolm Tarling from the Association of British Insurers says people should read their policy first and indeed check the small print.
"Insurers do often use preferred suppliers as they receive a discount and that helps them keep their costs down, which will be passed on to the consumer in terms of lower premiums," Mr Tarling says.
"Sorting out a claim is very much a process of negotiation.
"Insurance companies want to help policy holders to get their claims settled as soon as possible under the terms of their policy," he adds.
Related Internet Links
The BBC is not responsible for the content of external sites.