US consumer spending increases but incomes stay flat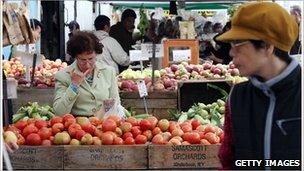 US consumer spending rose in April, official figures show, but the increase was less than expected.
But the rise was less than the downwardly-revised 0.5% increase seen in March. Analysts had expected the same figure for April.
The data suggests that much of the increased spending may have gone on higher food and energy costs.
High food and energy prices were behind a rise of 0.3% in overall prices last month, according to the Personal Consumption Expenditures index.
The data suggests much of the increase in spending went on food and fuel. Spending adjusted for inflation was nearly flat, up by just 0.1%.
Incomes rose 0.4% in April, the Commerce Department said, but disposable incomes adjusted for inflation also showed no rise.
Analysts suggest a recent drop in the price of oil may allow an increase in spending on other items.
Consumer spending is a crucial part of the US economy and accounts for about 70% of economic activity.
Related Internet Links
The BBC is not responsible for the content of external sites.