Financial complaints handling clean-up ordered by FSA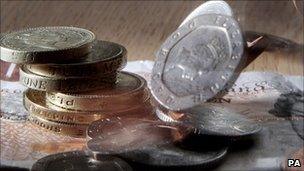 New rules to ensure customer complaints are dealt with fairly and promptly have been announced by the City watchdog.
The Financial Services Authority (FSA) said that "inappropriate use" of the current system - which requires two letters of complaint from customers - led to the planned changes.
New rules will also increase the amount that can be awarded to mistreated customers by the independent ombudsman.
This will rise from a maximum of £100,000 to £150,000.
The current system means that financial services companies have two opportunities to respond to complaints from customers before it goes on to the next stage.
The FSA said that the first response to a complaint was often "poorly drafted" and could put the customer off continuing with a complaint, even if it was justified.
Under the new rules, which will come into effect in July 2012, the first response from a company will be the final response.
If the customer is not happy with the response, then they can take the complaint to the Financial Ombudsman Service.
In addition, from January 2012, the Ombudsman will be able to award compensation of up to £150,000 if they find in favour of the customer.
This is the first time the limit has been raised since the maximum of £100,000 was set in the 1980s.
A spokeswoman for the service said that 300 cases it dealt with last year - typically involving medical claims, life policies or buildings destroyed by fire - would have merited compensation of more than £100,000.
Under the current rules, it can recommend payments of more than £100,000. In these cases, the company would be obliged to pay £100,000, but any additional amount would be paid at its discretion.
Sheila Nicoll, of the FSA, said that previous cases of poor complaints handling had led to the changes.
"We would rather customers were not put in a position where they had to complain, but when they do we want them to be treated fairly by their firm, with their complaint resolved promptly and being provided with redress when needed," she said.
"Good complaints handling contributes to customer loyalty and should provide the opportunity for firms to put right problems in product design or sales before issues become widespread.
"But we have found major failures with the way firms handle customer complaints."
Previous cases include a fine of £3.5m levied against the Bank of Scotland for complaints handling of investment products. The Royal Bank of Scotland and NatWest were also fined £2.8m for multiple failings in the way they dealt with customer complaints.
Adam Scorer, of watchdog Consumer Focus, said: "It is good news for consumers that FSA is taking a stronger line on complaints handling. This is an industry with confusing products and an appalling record for mis-selling.
"To require customers to endure a drawn-out and unresponsive complaints process is bad for companies and bad for consumers.
"Companies deny themselves crucial insight into what they are getting wrong and consumers need Herculean powers of resilience and determination to get a problem sorted out. These changes are welcome and should be implemented with vigour."
Related Internet Links
The BBC is not responsible for the content of external sites.