RBS launches China markets joint venture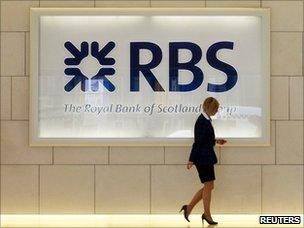 Royal Bank of Scotland has launched a joint venture with a Chinese financial securities firm.
The tie-up with China's Guolian Securities will allow RBS to manage share sales and issue debt in China's fast-growing financial markets.
RBS Asia boss John McCormick said the venture could also help UK companies tap China's deep pool of capital.
RBS will have a 33% stake in the venture, which will be known as Hua Ying Securities.
Hua means "Chinese", while Ying means "British".
"We want to be a top foreign bank in China," Mr McCormick, RBS Asia Pacific chief executive, told the BBC.
"China is an important part of our strategy," he added.
It will be based in Wuxi, Jiangsu Province, about two hours away from Shanghai.
Mr McCormick declined to disclose how much the bank had invested in the venture.
RBS is the first UK bank and the seventh bank internationally to get approval to enter the investment banking business in China.
"My vision is that we will be able to bring British, European and US companies to China and allow Chinese investors to gain access to foreign companies, equities and debt," said Mr McCormick.
In 2010, initial public offerings in China amounted to around two thirds of the world's total.
Foreign companies are not currently allowed to list shares in China but that is expected to change in the near future.
Morgan Stanley, UBS, Deutsche Bank, CLSA Asia Pacific, Credit Suisse and Goldman Sachs have also received approval to set up securities ventures in China.
A tie-up with a Chinese partner is a pre-requisite for a foreign bank wanting to enter the securities business.
RBS is seeking to shore up its business in the world's second largest economy after it was forced to sell a stake in Bank Of China in 2009 for 1.6bn pounds.
Mr McCormick said the sale was "disappointing" for the bank's ambitions in Asia but a necessary move following the massive bail-out by the government.
"The bank had a near fatal heart attack and we had to raise capital quickly," he said.
The bank is also making new hires following a loss of some key employees in Asia after the bail-out.
RBS - which is 83% owned by the UK government - made a loss of 1.13bn pounds in 2010.
The government has said it will sell its stake in RBS, but is unlikely to do so until the Independent Commission on Banking, due in September, reports its findings.
Mr McCormick suggested that potential buyers of the government's stake would be likely to come from Asia.
"I think there would be a number of investors in China, in Asia that would have an eye (on RBS)," he said.
"This is where the world's wealth is."