Greek leaders fail to agree as IMF deadline looms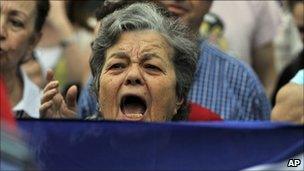 Greek leaders meeting in Athens have failed to agree on Prime Minister George Papandreou's new austerity plan.
Conservative leader Antonis Samaras rejected the measures, saying they would "flatten the Greek economy and destroy Greek society".
Mr Papandreou, a Socialist, had been trying to secure cross-party agreement for further cuts.
The chairman of the eurozone finance ministers has warned the IMF may not extend further bail-out payments.
Luxembourg Prime Minister Jean-Claude Juncker said IMF rules might stop it paying because Greece could not guarantee its solvency for the next year.
Mr Papandreou's government began a programme of privatisations on Thursday, but Mr Juncker has said the privatisation plan needs to be more ambitious.
A 12bn-euro ($17bn; £10bn) payment is due to be made to Greece on 29 June, 3.3bn euros of which should come from the IMF.
It is the fifth tranche of the 110bn-euro loan package from the EU and IMF and has not yet received final approval.
Mr Juncker said the IMF was assuming that if it decided not to make the payment, the EU would step in and make it instead, although he said that countries such as Germany, Finland and the Netherlands may oppose that.
In an interview with the Aachener Zeitung newspaper, the President of the European Central Bank, Jean-Claude Trichet, also urged Greece to ensure financial stability.
"Greece must implement the programme fully and rigorously; this is very important to correct the errors of the past," he is reported to have said.
Under the terms of the bail-out, Greece was supposed to go to the financial markets to borrow 24bn euros in 2012.
However, as Greece has missed its deficit reduction targets, the chances of it being able to borrow money commercially next year are very small.
The IMF would like the EU to agree to make up the shortfall if necessary through a second bail-out package, but that could be unpopular among northern European taxpayers.
An IMF spokeswoman confirmed that the Fund would be unable to lend more money to Greece unless it was sure that next year's financing gap would be filled.
"We never lend when we don't have an assurance that there will be no gap," said Caroline Atkinson at a briefing in Washington.
"That is how we maintain the safety of our members' money."
But a spokesman for Mr Juncker later said that if the EU and IMF inspectors currently in Athens could be convinced by new Greek austerity measures, there would be no problem with the next tranche of loans.
Related Internet Links
The BBC is not responsible for the content of external sites.