HSBC faces investor anger on pay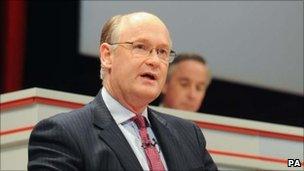 HSBC bosses faced shareholder anger over lacklustre returns and high executive pay, at the bank's annual general meeting.
Chairman Douglas Flint admitted that shareholder returns had been disappointing and inadequate.
A fifth of investors refused to back the bank's remuneration plan, marking stronger opposition over pay than that faced by other banks in the UK.
Under the plan, chief executive Stuart Gulliver could earn up to £12.5m.
The remuneration report contained new arrangements for paying board members in the wake of protests at last year's shareholder meeting.
But some investors at this year's meeting were still unhappy.
"How greedy is this board of directors?" asked private shareholder Michael Mason-Mahon.
Ahead of the AGM, both share advisory group Pirc and the Association of British Insurers had raised concerns about the scheme.
But another institutional investor, Standard Life - which had been one of the bank's fiercest critics over executive pay last year - backed the plan.
Earlier this month, HSBC revealed details of a large cost-cutting programme, aimed at saving up to $3.5bn (£2bn; 2.4bn euros).
The programme involves a retreat from retail banking, although the number of job cuts that will be made has not yet been disclosed.
It could also involve HSBC, which is Europe's biggest bank, selling its US credit card business.
At the meeting, the bank also faced questions over its relationship with the Libyan government and leader Muammar Gaddafi, after a leaked report earlier this week named HSBC, together with other well-known institutions, as holding Libyan state funds.
Mr Flint said Libya had been rehabilitated by the international community in 2006, which was why it had access to the international financial system again, before being cast aside this year.
But he refused to be drawn on whether HSBC had any connection to the Libyan government.
Related Internet Links
The BBC is not responsible for the content of external sites.