Fiat to take majority stake in Chrysler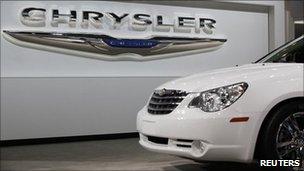 Fiat says it will buy the US government's 6% stake in Chrysler, which will give the Italian carmaker a majority share in the US company.
After Chrysler emerged from bankruptcy protection in 2009, Fiat agreed with the US government to share technology and management in return for a 20% stake and has quickly built that up.
Buying out the government would give Fiat 52% ownership of Chrysler.
The price will be negotiated within 10 business days, Fiat said.
In a statement, Fiat notified the US Treasury that it was exercising its option to buy the government's share.
Its stake is likely to increase to 57% by the end of the year, when it is expected to have met certain government targets.
On Tuesday, Chrysler said it had repaid $7.6bn (£4.7bn) in US and Canadian government loans, six years ahead of schedule.
Earlier this month, it reported a profit of $116m (£69m) in the first three months of the year, its first quarterly profit since it emerged from bankruptcy protection.
Related Internet Links
The BBC is not responsible for the content of external sites.