Championship play-off final win 'worth £90m'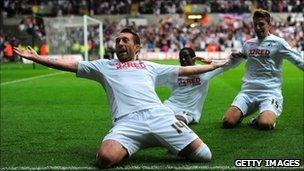 The Football League Championship play-off final on Monday will again be worth about £90m to the winner, accountancy group Deloitte has calculated.
That is how much money either Reading or Swansea City will pocket if they are promoted to the Premier League - the biggest prize in domestic football.
The £90m includes more than £40m of higher broadcast income, gate receipts and commercial income next season.
The club would also get payments of up to £48m if immediately relegated.
Paul Rawnsley, director of the Sports Business Group at Deloitte, said: "In financial terms, the Championship play-off final offers the winning club the most substantial prize in world football.
"Promotion offers an unparalleled, and potentially one-off, opportunity to strengthen the foundations of a club for years to come, through sound investment in long-term infrastructure, in addition to the expected player acquisitions in the short term."
Reading are hoping to return to the Premier League after a three-year absence.
Swansea were last in the top flight in 1983, but victory on Monday would make them the first Welsh team to enter the Premier League since it was established in 1992.
Related Internet Links
The BBC is not responsible for the content of external sites.