Philippines economy reports 'modest' 4.9% growth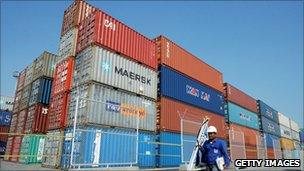 Economic growth in the Philippines slowed down in the first quarter of 2011 due to lower government spending and a slowdown in global trade.
The country's economy grew by a 'modest' 4.9% in the three months to March compared with the same period last year, the latest government data showed.
Compared with the previous three months the economy grew by 1.9%.
The Philippines is targeting annual growth of 7.8% for this year.
However analysts said that given the current data, that target may need to be revised.
"It's clearly much slower than last year. It would probably be reasonable to see a downward revision in the government's target of 7 to 8 percent growth." said Jun Neri of Bank of the Philippine Islands in Manila.
The latest numbers are a big drop from the same period last year, when the economy grew by 8.9%.
Analysts say that the government is likely to take note of the slowdown and react fast.
"I supposed for the rest of the year government will be stepping up on its spending programme to help neutralise some of the negative impact arising from the Middle East developments as well as the disaster in Japan," Mr Neri added.