EU probe into Samsung and Hitachi deals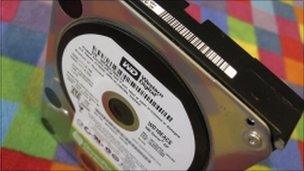 European Union antitrust regulators have launched an in-depth probe into two separate takeover bids in the computer hardware sector.
The first is US-based Seagate Technology's bid for for Samsung Electronics' loss-making hard disk drive unit.
The other is Western Digital's purchase of Hitachi's storage business.
The commission is concerned the deals will reduce the number of rivals in the industry.
"Hard drives are the backbone of the digital economy," said Competition Commissioner Joaquin Almunia in a statement.
"The sector has already experienced significant consolidation, and the proposed acquisitions will further reduce competition."
Seagate Technology has bid to buy South Korean Samsung's hard-disk drive business for $1.4bn.
Western Digital, also based in the US, has offered $4.3bn for Japanese company Hitachi's hard drive unit.
These acquisitions would reduce the number of large manufacturers in the sector to three from five.
Western Digital would then have a 50% market share, while Seagate would have 40%.
The only other player would be Toshiba with 10% of the market.
The regulators say they will make a decision by 10 October on whether the deals will be cleared or blocked.
Related Internet Links
The BBC is not responsible for the content of external sites.