Disasters 'to dent Australia growth in first quarter'
By Phil Mercer
BBC News, Sydney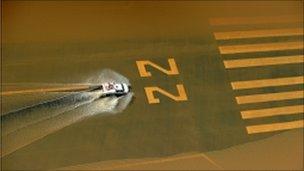 Natural disasters at home and overseas are expected to be shown to have cut Australia's first-quarter economic growth, when the statistics are published on Wednesday.
The figures are almost certain to be dragged down by falls in mining profits, which have been dented by disruption to coal exports in resource-rich Queensland, where agriculture has also suffered.
"Wednesday's national accounts will show the dramatic hit on our economy from the floods and Cyclone Yasi at home, as well as the disasters in Japan, our second-biggest trading partner," said Australian Treasurer Wayne Swan.
"The size of that loss isn't surprising when you consider that 85% of Queensland's 57 coal mines suffered production losses in the early part of the year," he added.
Economists now expect Australia's gross domestic product (GDP), a simple measure of a nation's total economic output, to have shrunk by between 0.5% and 1% from the previous quarter.
The predicted dip was foreshadowed by data released this week that showed company profits in Australia retreated by 2% in the first three months of this year, with the miners suffering more than most.
If there is to be a setback to Australia's economic health and GDP goes into reverse, Peter Esho, the chief markets analyst at financial services company City Index, said the pain caused by "one-off" natural disasters would be temporary.
"The Australian economy is in pristine shape," Mr Esho told the BBC.
"Sovereign debt as a proportion to GDP is still very low compared to other developed economies.
"Australia has a commitment to return to a budget surplus by 2013, the first economy in the developed world to stand by that promise.
"Unemployment is below 5%. We're almost at full capacity, so overall the economy is still very strong. These one-off impacts have been absorbed."
It has been two decades since Australia last grappled with a recession, and it emerged from the global financial meltdown relatively unscathed thanks to multi-billion dollar government stimulus measures and sustained demand in Asia for commodities.
Treasury officials in Canberra say the economy will quickly shake off any first-quarter gloom, thanks largely to a resources sector expected to underpin growth for years to come.
In the next 12 months, GDP is predicted to expand by a robust 4%.
While other developed countries can only dream of such vitality, Graham White, from the economics department at the University of Sydney, is worried about Australia's "two-speed" economy, where the roaring minerals industry is masking weaknesses in other areas, including tourism and manufacturing.
"You have that particular sector growing very fast, but you have less spectacular growth going on in the rest of the economy because consumer spending is somewhat subdued, you have a very high Australian dollar and that is hurting a number of sectors within the economy," Mr White said.
Another concern is a worsening skills shortage, which threatens to derail growth in the months and years ahead.
"I'm not sure about the pristine shape of the economy. That might be putting too much gloss on things because one of the key challenges identified in the budget was labour shortages particularly in the mining sector and in other parts of the economy," said Mr White.
While analysts expect the Australian economy to accelerate, nervous consumers are still weighed down by concerns about their own finances and the rising cost of living.
Mr Esho said sluggish GDP figures would at least provide mortgage holders with some relief.
"A weaker than expected [GDP] number might be an overall positive for Australian households in that it could delay an interest rate rise," he said.
Australia's benchmark interest rate of 4.75% is the highest in the developed world.
It has been unchanged since November, but will be reviewed at the Reserve Bank's next scheduled meeting in a week's time.