UK manufacturers see improvement in lending, EEF says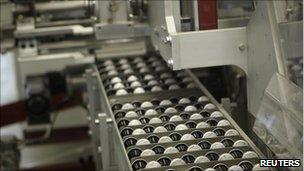 UK manufacturers are beginning to find access to bank credit easier for the first time since the onset of the recession, a survey suggests.
The same proportion of small companies reported a rise in credit availability as reported a fall in April and May, an improvement on the previous two months, manufacturing group EEF said.
However, manufacturers said the cost of borrowing remained a problem.
Last week, data showed that banks were behind small business lending targets.
Bank of England figures showed that in the first three months of 2011, the top five UK banks loaned £16.8bn to small and medium-sized (SMEs) companies, compared with an agreed annual target of £76bn, or £19bn a quarter.
However, the Bank also reported that gross lending to all companies in the quarter was £47.3bn, which means that the banks are on course to meet their overall target of £190bn.
As well as small manufacturers, EEF also found an improvement in the balance of medium-sized manufacturers reporting easier access to finance.
However, it said taken together, a balance of 22% reported an increase in the cost of credit in April and May.
EEF said its survey of almost 500 companies suggested that lending to SMEs in the wider economy may improve during the second quarter of the year.
"For the first time since the recession ended, manufacturers are reporting improving access to finance," said the EEF's chief economist, Lee Hopley.
"Hopefully, this will translate into better news on new lending in the coming months."
But Mr Hopley said a "sustained improvement" in access to finance was needed before "concluding that the actions taken by banks and government are bearing fruit".
Related Internet Links
The BBC is not responsible for the content of external sites.