German unemployment falls as retail sales rise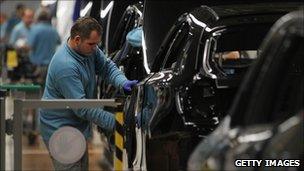 The German unemployment rate fell to 7% in May, according to the German Federal Labour Agency.
The jobless total fell by 8,000 in seasonally adjusted terms to 2.97 million, the first time it has been below 3 million in five months.
The news comes as retail sales in Germany rose by 0.6% in April, according to preliminary data from the German Federal Statistics office.
The same figures show an improvement over March when sales fell by 2.7%.
The sales figures may disappoint analysts who had expected a more significant rise in sales, but experts say the sales data is preliminary and may well be revised.
The rise in unemployment figure was also slightly below analysts' forecasts.
"The numbers are a bit weaker than expected," said Christian Schulz from Berenberg Bank.
"But the overall positive trend is continuing, that should support consumer confidence and stabilise retail sales," he added.
Germany has been the fastest growing member of the eurozone recently. In the first three months of 2011 the German economy grew by 1.5%, compared with an average of 0.8% across the 17 countries that use the euro.
Related Internet Links
The BBC is not responsible for the content of external sites.