Construction insolvencies 'up 19% due to cuts'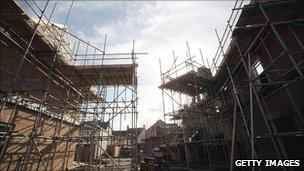 Insolvencies in the construction sector have risen sharply due to public sector spending cuts, a report suggests.
The number of construction firms in the UK that became insolvent in the first quarter of the year rose by 19% from the previous quarter to almost 1,000, said accountancy firm Wilkins Kennedy.
The industry was now in a "double dip [recession]", it added.
Figures released earlier this month suggested the construction industry had slowed sharply in April.
The closely-watched Purchasing Managers' Index (PMI) for construction fell to 53.3 in April from 56.4 in March, due in part to a contraction in housing activity.
The number of businesses in the sector going bust in the first quarter rose to 948 from 796 in the final three months of 2010, Wilkins Kennedy said.
"The government has slashed capital spending on infrastructure across the board in order to plug the deficit and that has pushed the construction sector into a double dip," said Anthony Cork, director at the firm.
"The question now is how quickly private sector construction work will be able to pick up the slack left by public sector. So far this has not happened."
He added that the cuts could also be felt by smaller tradespeople who rely on work from construction companies.
"Many companies could be forced to pass their pain down through their supply chain, which will have a big impact on sub-contractors, electricians, plumbers and builders merchants," he said.
Related Internet Links
The BBC is not responsible for the content of external sites.