Belarus to raise interest rates to 16%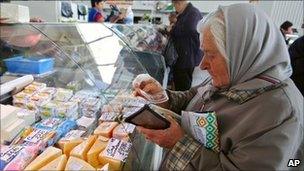 Belarus is raising its main interest rate on 1 June to 16% from 14% as it tries to battle inflation.
The central bank said the rise would increase the value of investments in Belarus roubles and protect people's savings from inflation.
Last week, the government cut the official exchange rate of the rouble against the US dollar by 36%.
The government has also frozen prices on some staple foods until 1 July.
There has been hoarding of food, leading the government to decree that prices of fish, tea, coffee, certain types of sausages, cheese and some fruit and vegetables cannot be raised in the next month.
Deputy economy minister Andrei Tur warned last week that inflation could reach 39% by the end of the year after the depreciation of the rouble.
The Belarus government is negotiating a Moscow-led $3bn (£1.8bn) bail-out this week.
Russian finance minister Alexei Kudrin has said that Belarus will only get the money if it embarks on a major privatisation programme.
But Belarus President Alexander Lukashenko said he would not sell state assets at discount prices, and blamed Moscow for causing the crisis by charging high gas prices.
Related Internet Links
The BBC is not responsible for the content of external sites.