Eurozone inflation falls as unemployment stays flat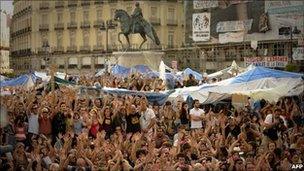 Inflation in the countries that share the European single currency fell to 2.7% in May, according to the European Union statistics office.
The preliminary estimate is down from 2.8% in April and is lower than expected.
The euro fell on the news, which may limit further rises in interest rates.
The European Central Bank (ECB) wants to keep inflation just below 2% over the medium term.
The ECB raised rates in April to 1.25% to limit rising prices.
However, economists predicted that inflation would continue to rise, despite a recent drop in the price of some commodities, including oil.
"The ongoing moderation in economic activity will probably ease some of these pressures, but will not change the overall picture," said Eoin O'Callaghan, an economist at BNP Paribas.
If inflation continues to rise, economists think further rate rises are likely.
"I think they are still on target to increase interest rates by a further quarter-point this summer, probably in July," said Martin van Vliet, an economist at ING.
The unemployment rate in April varied significantly between countries within the euro area.
Austria and the Netherlands had the lowest unemployment at 4.2%, while unemployment in Spain was at 20.7%. Spain also had the highest youth unemployment rate, with 44% of under-25s out of work.
Year-on-year unemployment fell in 17 EU member states, but increased in nine of them. Unemployment in Luxembourg remained the same.
"With eurozone growth currently showing signs of losing some momentum, the suspicion remains that eurozone unemployment will trend down only gradually over the coming month," said Howard Archer, economist at IHS Global Insight.
Unemployment within the entire 27-member European Union fell slightly to 9.4%, compared to 9.5% in March.
UK unemployment for February stood at 7.6%.
Related Internet Links
The BBC is not responsible for the content of external sites.