Nokia cuts sales and profit-margin forecasts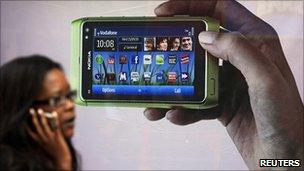 Mobile phone giant Nokia has said it expects sales and profit margins for the current quarter to be well below its previous forecasts.
Lower selling prices and gross margins together with general market trends were behind the downgrade for its Devices and Services division, it said.
It added that it could no longer provide a full-year forecast.
Last month, Nokia said it would cut 7,000 jobs worldwide as part of strategy to focus on smartphones.
The company's latest announcement said sales would be "substantially" below the 6.1bn euros ($8.8bn; £5.3bn) to 6.6bn euros previously forecast for the second quarter of 2011.
Operating margin would also be "substantially" below the 6% to 9% range forecast.
As a result, shares in the group fell by almost 12% in Frankfurt.
"Strategy transitions are difficult," said Nokia chief executive Stephen Elop.
"We recognise the need to deliver great mobile products, and therefore we must accelerate the pace of our transition."
More details of Nokia's performance in the second quarter of the year will be published on 21 July.
As part of the Finnish firm's reorganisation, Nokia is moving from Symbian to Microsoft's smartphone technology.
Mr Elop said the company had "increased confidence" that its new Window's-based smartphones would be launched in the final three months of this year.
The firm is looking to make up the ground it has lost to competitors such as Apple's iPhone and phones using Google's Android operating system.
Of the 7,000 job cuts announced last month, 3,000 are being transferred to outsourcing and consultancy group Accenture, which will take over Nokia's Symbian software.
Nokia hopes that the job cuts and restructuring will help produce savings of 1bn euros for the firm by 2013.
Related Internet Links
The BBC is not responsible for the content of external sites.