Southern Cross care home firm to defer 30% of rent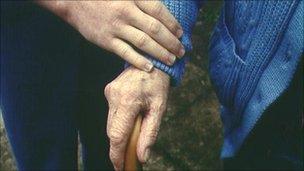 Troubled care home operator Southern Cross has said it will defer 30% of its rent for four months while it tries to resolve its financial difficulties.
It also reiterated its belief that a longer-term solution to its troubles would be "forthcoming".
The company recently warned it was in "critical financial condition" as it reported a half-year loss of £311m.
The firm, which operates 750 homes, said it was confident "a critical mass of landlords" would support the move.
However, there has been no official agreement.
The company said it would issue an update in July.
"We believe that all of the key stakeholders in Southern Cross want this restructuring to succeed," said chairman Christopher Fisher.
"We are in dialogue with the Department of Health, our lenders and our landlords and they continue to support the process.
"The objective will be to emerge with a stable and sustainable business model for the continuing care of our residents."
The rent deferral runs from 1 June to 30 September.
Darlington-based Southern Cross cares for 31,000 residents across England, Wales and Northern Ireland.
Related Internet Links
The BBC is not responsible for the content of external sites.