US house prices below 2009 low, Case-Shiller indicates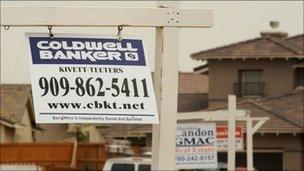 US house prices fell in March, dipping below their 2009 low, as the housing market continued to be affected by weak demand, an index has shown.
The Case-Shiller housing index, which tracks 20 metropolitan areas, fell 0.2% in March from February on a seasonally adjusted basis, in line with forecasts.
The index dropped to 138.16, falling below the 139.26 seen in April 2009.
Prices in 19 of the 20 cities covered were lower than a year ago, with 12 cities seeing new index lows.
"This month's report is marked by the confirmation of a double-dip in home prices across much of the nation," said David Blitzer, chairman of the index committee at Standard & Poor's, which compiles the index.
"Home prices continue on their downward spiral with no relief in sight."
Related Internet Links
The BBC is not responsible for the content of external sites.