China factories feel credit squeeze as expansion slows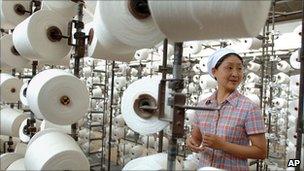 China's manufacturers have started to feel the effects of the government's policy to reduce credit-fuelled growth in the country.
The PMI, an indicator of conditions in the manufacturing sector, fell to 52 in May from 52.9 in the previous month.
Manufacturing is a key contributor to growth in China's economy.
Even though the figure remained above the threshold level of 50, indicating expansion in the sector, the drop from the previous month shows that expansion is slowing down.
"The continued fall in PMI in May, after the drop in April, shows the rising possibility of a slowdown in economic growth," analyst Zhang Liqun said in the report.
China has witnessed robust growth in the past few years, in the process going on to become the world's second-largest economy.
However, concerns of overheating and rising consumer prices have seen the government implement measures to slow down growth.
One of those measures has been to tighten the supply of credit.
Analysts say the move is starting to affect growth in the sector.
"There has been a strain on the ability of manufacturers to raise capital," said Michael Pettis of Peking University.
"The majority of the funds that are available in the market are being channelled towards infrastructure development or real estate development in the country," he added