India land disputes pit farmers against middle class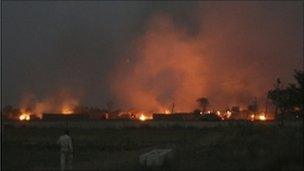 In the first of a series of reports on land rights, we look at the northern Indian state of Uttar Pradesh, where there have been violent clashes between local villagers and police in a dispute over land.
It's a hot summer day and the air is thick with smoke from the diesel-powered trucks carrying bricks, cement and sand.
There is a long line of vehicles along the road as the trucks jostle with bullock carts and tractors carrying bags of grain.
The small, sleepy village of Sahberi is now part of an upcoming suburb called the Noida Extension, in the northern Indian state of Uttar Pradesh.
Here, fighting for space between huge cow-dung mounds and broken farm machinery, are gleaming boards advertising swanky penthouses and apartment blocks.
For urban Indians, this represents an affordable housing dream.
Last year, Vikas Chauhan, 31, used his life savings to buy a one-bedroom flat in Amrapali Smart City, one of the many residential developments coming up in Sahberi. At a cost of 1m rupees ($20,000), the property looked perfect.
But in a ruling on 12 May, the Allahabad High Court struck down the acquisition of the land by the state authority.
Mr Chauhan is now worried about his investment. "My money is stuck in this project. I can't buy anywhere else till they give me back my money," he says.
"I invested one year back and now all the other developers have raised their prices. How can I afford a house now?"
But Mr Chauhan is not alone.
Mohammed Mameen, 23, has also lost his home. His farming land was taken away to build a new real-estate development for people like Mr Chauhan.
Mr Mameen's family has been farming for generations in the same land, located in the fertile upper Yamuna basin.
The government in Uttar Pradesh has acquired thousands of acres of land along the Yamuna River to build housing blocks, highways, airport and even a Formula 1 track.
Mr Mameen and other farmers from the Sahberi village decided to fight back and filed a case in the High Court.
Now their victory in the land acquisition case is inspiring other villagers to take to the courts to demand their land back.
"This verdict establishes the right of the farmer over the land he tills," Mr Mameen says.
"They forced us out of our lands and homes. I don't know any other job other than being a farmer - how can I be a farmer without any land?"
While most villagers who had to give up land are angry their livelihood was taken away, many say the main cause of their anger is the paltry compensation offered.
The existing land act dates back to 1894. Under this, the government can acquire any piece of land for projects in "public interest" - such as hospitals, roads and other infrastructure-related projects.
But, increasingly, this law is being used to sell land to real-estate developers to build apartment blocks.
That's putting poor farmers in direct conflict with the wealthy middle classes across the country.
While the land dispute in Sahberi is being fought in the courts, a similar dispute in the nearby village of Bhatta Parsaul turned into a bloody battle between angry villagers and the local police.
Haystacks were set on fire, homes looted and four people died when farmers demanded more compensation for land the authorities had acquired to build an expressway to the Taj Mahal.
This agitation triggered angry reactions from across the country.
It also put pressure on the Indian Prime Minister, Manmohan Singh, to amend the land laws.
The prime minister admitted the government "needs to think afresh on the land bill".
He said he recognised land acquisition had become a sensitive issue and acquisition of prime land aroused valid concerns.
"Industrialisation is essential for our country to solve problems of unemployment and poverty," he said.
"That process has to be equitable and one way to ensure it is so is to see that land acquisition does not become an instrument of depriving farmers of their livelihood."
The government is planning to take up the land acquisition bill in parliament during the monsoon session beginning in July.
This new bill would have specific guidelines for valuing land and a social impact study would be made mandatory before evictions.
But some people feel the solution is not that easy.
A senior lawyer of the Supreme Court of India, Mukul Rohatgi, says the problem is not in the law but in its implementation.
"There is a need for political will and honesty of purpose while implementing this law," he said.
Mr Rohatgi says the main issue is that public purpose needs to be well defined.
Secondly, the price of compensation and the manner of dispensing this compensation needs to be laid out clearly.
Thirdly, he says, there needs to be special courts to arbitrate in land disputes, so that cases are heard in a fast-track manner and issues resolved quickly.
The Associated Chambers of Commerce & Industry calculated in 2009 that land disputes had stalled 133 projects, halting $100bn of investment.
Meanwhile, builders are attempting to win back consumers' confidence.
The Amrapali group has offered customers an option to shift to other projects nearby. Their project, called the Smart City, had 5,700 units on 35 acres of land in the Sahberi village.
Another builder, Mahagun, had sold independent villas in the disputed area and has offered customers a refund.
More than 50 developers were planning projects in the Noida Extension area. There is now uncertainty among buyers.
Mr Chauhan is still hopeful of getting his dream home. But as he and many other middle-class people look for affordable housing, the resulting boom in real estate is driving villagers from their farms.
More than two-thirds of India still relies on agriculture for a living. Unless the government modifies the land acquisition act, more and more farmland will be taken to fuel India's fast-growing economy.