Mortgage approvals hit new low, Bank of England reports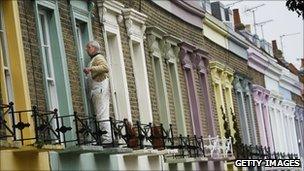 The number of mortgages approved for house purchases hit a new low in April, Bank of England figures show.
At just 45,166, the number of new approvals was the lowest April figure since the Bank's records began in 1992.
Analysts said the data may have been affected by the number of public holidays in April.
However, the figures suggest that the UK property market will remain subdued in the coming months, with a low level of sales and falling prices.
The number of approvals was 4% lower than in March and 9% down on April last year.
Brian Murphy, at mortgage brokers the Mortgage Advice Bureau, said April had been affected by seasonal factors.
"The raft of bank holidays and the royal wedding inevitably skewed the April data, so an overall drop in the number of loan approvals and remortgages comes as no surprise," he said.
The UK's mutual lenders, mainly building societies, reported that their own mortgage lending, despite falling between March and April, was still noticeably higher than a year ago.
But they were cautious about the outlook for the property market.
"Lending activity by mutuals continues to improve with both gross lending and approvals in the first four months of the year up over 20% compared to the same period in 2010," said Adrian Coles of the Building Societies' Association (BSA).
"This is a promising trend, but the number of transactions and the level of mortgage lending are likely to remain low until economic growth recovers and consumer confidence returns," he added.
Separately, the investment bank Morgan Stanley predicted that UK house prices would continue to fall and drop by 10% between the end of 2010 and the end of 2012.
This would lead to higher losses on mortgages, with Lloyds bank in particular exposed to the rising negative equity of its borrowers.
"Lloyds' loan book is 58% mortgages and we forecast 27% (£90bn) of these mortgages to be in negative equity by December 2012," said Morgan Stanley.
Related Internet Links
The BBC is not responsible for the content of external sites.