Q&A: Care home closures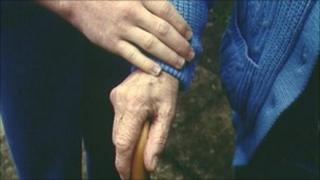 The UK's biggest care home operator, Southern Cross, is to close. Landlords owning all 752 of Southern's homes said they wanted to leave the group.
In a statement, Southern Cross said the landlords were committed to providing continuity of care to its 31,000 residents.
The process of transferring homes to landlords is under way. Southern Cross expects all homes to be transferred and the company to be wound up by the end of the year.
The government says it will ensure there is protection for anyone affected by changes to the business - saying the welfare of residents is its "number one concern".
The plight of Southern Cross underlines the financial difficulties in the care home market, and fears about closures remain. So what are residents' rights if homes do shut?
Who is entitled to care assistance?
Many thousands of elderly people have places in care homes because they need more support than they can get in their own home.
Councils will usually do a needs assessment to work out what type of care is required.
This is then typically followed by a financial assessment to work out how much you will have to contribute to the cost of your care.
In England, if your savings and property are worth less than £14,250, your local council will pay all of the cost. However, you may have to contribute if the care home you choose is more expensive than what the council usually pays for.
If your savings and property are between £14,250 and £23,250, the council will make a contribution.
But if you are deemed to be worth more than £23,250, you will have to pay the full cost of your residential care.
However, if a medical assessment finds that you need continuing, medical care, the NHS in England will pay £108.70 per week towards just the nursing costs.
The NHS will pay the full cost of care for those with the greatest needs.
In Scotland, all of your personal care and nursing care will be paid for, subject to the necessary assessments.
But the cost of accommodation in a home is means-tested as in England. The figures differ slightly:
Savings and property up to £14,000 - full costs paid
Between £14,500 and £22,750 - some help
Over £22,750 - resident has to pay full cost of care home accommodation.
Wales and Northern Ireland both have means-tested systems which are similar to England, but both are looking to change.
In Wales, you will need to pay the full amount if you have more than £22,000 in savings and property.
Also, the NHS in Wales will contribute £120.55 per week towards nursing care.
In Northern Ireland, the threshold is £23,250. Above that amount you will have to pay for your care home.
What happens if a care home closes?
The local authority is obliged to find another place for residents who are forced to move, and whose place is publicly funded.
It is understood that there are enough places in total to cover the mass movement required if a company the size of Southern Cross was forced to fold.
However, the council must consider people's emotional needs, as well as their physical needs, according to advice charity FirstStop. This could include being put in a home that is close to where their relatives live.
Can the residents choose where to go?
Yes, there is an element of choice.
The local authority must find somewhere that provides a service that matches people's care needs.
Each local authority sets an amount which they would normally pay which relates to the level of need they have.
If other care homes charge more, and the resident chooses to live there, then relatives can top up the cost.
Alternatively, families can challenge the maximum cost rate set by the council if there are no homes in the area that are cheap enough and provide the care required.
What about those older people who fund their care home place themselves?
If people are self-funding their care home place, then they are still entitled to the needs assessment from the local authority.
This will help them judge which care home they can move into. They are entitled to information and support to find an alternative.
If they have no relatives to help, and are too unwell to make the decision themselves, then the local authority is obliged to help them.
Charities believe that the trauma of moving people around when they are very old can affect their health.