'Offshoring risk' to thousands of council jobs
By John Moylan
Employment correspondent, BBC News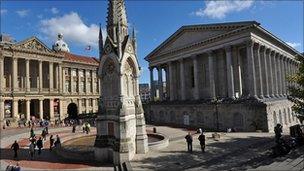 Thousands of council and local authority jobs could be at risk of being outsourced abroad, the Unite union has warned.
It follows the news that dozens of Birmingham City Council staff are to see their jobs "offshored" to India.
Up to 100 posts are to be transferred by the end of the year.
The cost-cutting move is thought to be the first time a council or local authority has outsourced part of their direct workforce abroad.
The posts are with Service Birmingham, a joint venture between Birmingham City Council and the management firm Capita.
A redundancy notice has already been served which will see more than 70 Birmingham-based IT jobs go.
Service Birmingham began looking at offshoring in the autumn.
The first tranche will see 18 roles move to India. A further 37 will go by the end of the summer.
A total of 100 are likely to go by the end of the year.
Service Birmingham has confirmed that employees have already been recruited in the Indian city of Pune.
It is understood that they will shortly travel to the UK for a formal induction.
Offshoring jobs has become common in the IT and financial services sectors, but this is thought to be the first time a council has moved posts abroad.
The Local Government Association said it was not aware of any other local authorities who have outsourced any part of their direct workforce overseas.
"It is a matter for local authorities as individual employers to decide in consultation with their workforce," said Sarah Messenger of the Local Government Employers organisation.
But the Unite union says it fears council workers here could be forced to train workers from overseas to do their jobs.
"This is an outrageous decision and Unite will fight tooth and nail to stop this Tory-led council from exporting these valuable jobs overseas," Unite's national officer Peter Allenson said.
"We fear that this could be just the beginning and other councils could follow suit.
"Thousands of public sector jobs could go. Once these jobs go they will not come back."
Service Birmingham says it is on track to meet a jobs promise made in 2006 that will see more than 700 jobs created in the city by April 2013.
But a group spokesman also said: "We need to offer the council the best combination of operating models to deliver cost savings and efficiency gains while maintaining our existing service levels.
"We are talking about a limited number of back office technical roles. No customer-facing staff will be affected."
The spokesman emphasised that this was just one element of the work that Service Birmingham does for the council, and said the group would work with trade union representatives.
"We remain absolutely committed to our Birmingham workforce," he said.
Related Internet Links
The BBC is not responsible for the content of external sites.