Public sector pay deals 'at zero'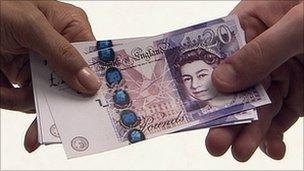 Public sector pay settlements were running at zero in the three months to April, for the first time since records began in the 1960s, research suggests.
The median pay settlement in the private sector rose to 3% from 2.5% in the three months to March, research group Incomes Data Services (IDS) said.
The public sector pay freeze was announced last year by the government as it tried to reduce the UK's deficit.
The TUC said the government was making public sector workers a "scapegoat".
The median figure is the one at which half of workers are getting a higher settlement and half are getting a lower one.
Bank of England policymakers will study the figures closely.
Some members have indicated that they are more likely to vote for a rise in interest rates if there is evidence that high inflation, currently at 4.5%, is leading to bigger wage increases.
IDS, which monitors annual pay settlements, said the increase in the private sector median reflected a rise in manufacturing pay awards.
"April is a key month for public sector pay reviews and the latest figures begin to show the effects of government policy on public sector pay," IDS said.
But it added that the median for the whole economy remains at 2.5%, despite the addition of the freezes in the public sector.
IDS said that some sectors in particular were starting to offer pay rises.
"There is a little bit of a return to normality in the private sector," Ken Mulkearn, editor of the IDS report, told the BBC.
"Industries like the car industry and parts of the utilities industry are leading the way on settlements, so they're good areas to work in terms of pay rises at the moment."
TUC general secretary Brendan Barber said while it was encouraging to see private sector pay awards increase, they were still running significantly below inflation, and the public sector was still feeling the real pain.
"By forcing through pay cuts and seeking to increase pension contributions on top of heavy job losses, the government is making public servants the scapegoat for a financial crisis they played no part in causing," he said.
Related Internet Links
The BBC is not responsible for the content of external sites.