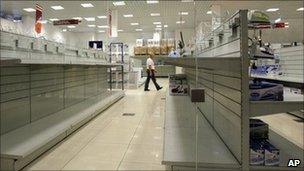 Belarus has asked the International Monetary Fund (IMF) for an emergency loan of up to $8bn (£5bn; 5.6bn euros).
It comes a day after the government announced it was raising its main interest rate from 14% to 16%, and that it was freezing prices on a number of staple foods until 1 July.
Last week Belarus cut the value of the rouble against the US dollar by 36%.
The country faces high inflation and its most severe financial crisis since the collapse of the Soviet Union.
Prime Minister Mikhail Myasnikovich said the IMF programme could last for three to five years.
Stanislav Bogdankevich, former head of the National Bank, said: "This is an SOS signal from the Belarussian government, which is losing control of the situation."
Belarus has also asked Russia for a direct loan. Moscow initially rejected the plea last month but said that it and several other ex-Soviet republics could still give it some joint regional assistance.
A decision is expected later this week.