Asian markets fall as weak US data hits investor morale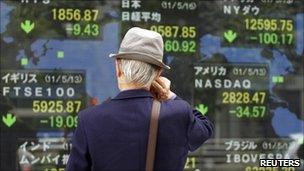 Asian shares fell on Thursday as weak economic data from the US raised concerns about a slowdown in the global economic recovery.
According to the latest data, US manufacturing in May slowed to its lowest level since 2009.
Japan's benchmark Nikkei 225 index fell 1.7%, and Australian shares fell 2.2%.
This was after Wall Street shares registered their biggest fall in 10 months, with the Dow Jones Industrial Average dropping by 2.2%.
Investors' confidence was also dented by numbers that indicated that private employers in the US hired fewer workers in May than had been expected.
The data had investors worried that a faltering recovery in the US may affect demand from Asia's export-driven economies.
Shares in Hong Kong ended the day 1.6% lower, while Korean stocks shed 1.3%.
While the weak data had investors worried about the health of the global economic recovery, political uncertainty was also a concern.
Markets, especially in Japan, were worried about the outcome of a no-confidence motion against the Japanese prime minister Naoto Kan - which the Japanese prime minister eventually survived - and reports of a possible split in the ruling party.
Analysts said that markets were worried that no matter which way the no-confidence motion went, Japan's economy was likely to suffer.
"Even if the move is not successful, the authority of the prime minister will be undermined," said Martin Schulz of Fujitsu Research Institute, speaking ahead of the vote.
"That will make the government even more ineffective than it is currently," he added.
"There are concerns that with all the political bickering going on, the authorities' attention is shifting away from the core issues," he said.
One of the sectors that has been going through a rough patch is Japan's car manufacturing.
Disruptions caused to the supply chain by the 11 March earthquake and tsunami have seen production levels plunge at leading carmakers.
They were dealt another blow on Thursday, as data showed that sales of Japanese cars in the US dipped in May.
Sales at the world's biggest carmaker Toyota were down by 33%.
Honda Motors reported a 23% dip in sales, while Nissan Motors witnessed a 9% drop.
Shares in car manufacturers were hit hard on the Tokyo Stock Exchange.
Toyota Motors ended Thursday down 3.3%, while Honda and Nissan shares fell 2.4% and 3.2% respectively.