Samsonite luggage firm seeks Hong Kong share listing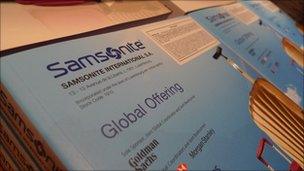 Luggage maker Samsonite is seeking to raise up to $1.5bn in a Hong Kong initial public offering.
The 100-year-old company, which is owned by private equity group CVC and the Royal Bank Of Scotland, will use the proceeds to pay off its debts.
It is the latest high-profile brand to consider floating in Hong Kong as a way to tap Asian investors and raise its profile among Asian consumers.
French cosmetic brand L'Occitane listed in Hong Kong last year.
Fashion house Prada and leather goods maker Coach are also considering selling shares in Hong Kong.
Tim Parker, Samsonite's chief executive, said that Asia was the company's fastest-growing and most profitable region and Hong Kong was the most "logical" place for a listing.
"We need to orient our company to where the centre of gravity will be in the future," he told a press conference in Hong Kong by video link.
"We did consider multiple listings, but decided that did not make sense for us."
Hong Kong has been the biggest market for IPOs for the last two years as London and New York have struggled in the wake of the financial crisis.
Samsonite is selling 671,235,600 shares to investors and the offer price is expected to be between 13.50 and 17.50 Hong Kong dollars a share.
The company's shares are expected to begin trading on the Hong Kong stock exchange on 16 June.
Samsonite was founded by US trunk maker Jesse Shwayder in Denver, Colorado, in 1910.
One of his first cases was called Samson, after the bibical figure known for his strength, and was designed to withstand the hardships of travelling through America's West.
Nowadays, Samsonite specialises in lightweight but durable luggage for air travellers and claims to be the first company to have put wheels on a suitcase.
It is now the world's largest travel luggage company, with a 10% market share ahead of rivals such as Tumi and Delsey.
"I like to think of us as a mini Coca-Cola without Pepsi to compete against," said Mr Parker.
A successful IPO would represent a dramatic turnaround for Samsonite.
The company was relatively late to move manufacturing from the US to cheaper places such as China and made an ill-fated move upmarket in 2005.
CVC bought Samsonite in 2007 for $1.7bn at the height of the credit boom.
But the company struggled when travel was hit by the financial crisis and Royal Bank of Scotland ended up taking a 30% stake as part of a debt restructuring.
Mr Parker, who is best known for his ruthless cost-cutting while at the helm of the Automobile Association, has run Samsonite since 2008.
The company is betting on growth in Asia, where leisure travel is becoming increasingly affordable.
It also hopes to benefit from changing rules on the size of cabin baggage and expand into business and casual bags.
The company has 37,000 sales outlets in more than 100 countries.
Related Internet Links
The BBC is not responsible for the content of external sites.