Japan domestic air travel slumps as quake dents demand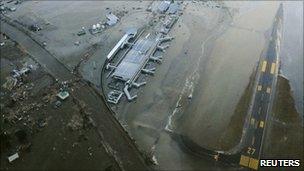 Japan's air travel industry has been hit by the earthquake and tsunami according to the International Air Travel Association (IATA).
IATA said international traffic to Japan was down by about 20%.
Widespread destruction and fears of a nuclear crisis at the Fukushima Daiichi plant have hurt travel demand in the country.
Domestic demand grew in China, but at a slower rate.
Its domestic market grew by 10.8% in April, compared with 15% growth during the same month last year.
Giovanni Bisignani, IATA's Director General said growth in China slowed: "as a result of tighter economic policies".
There was some good news for the industry as IATA said that international air travel grew by 16.5% in April, compared with last year.
"Demand improved significantly in April. Eliminating all distortions, we are growing at 3-4%," said Mr Bisignani
"International traffic is now 7% above the early 2008 pre-recession levels," he added.
The numbers were boosted by a spike in European air travel, which grew by 29%.
However, IATA said that Europe's numbers were high as travel in the region was severely affected last year by the volcanic ash crisis.
Despite the encouraging numbers, IATA warned that there were tough times ahead.
"Despite the enormous restructuring over the last decade, the industry is not shock-proof," said Mr Bisignani.
"Maintaining the high load factors needed to support profitable growth will be difficult, given the ongoing challenge of matching capacity to volatile demand," he added.
Mr Bisignani also said that the industry's profit margins had been hit by a series of crises and natural disasters in the first half of this year and that is likely to have an effect on growth.
Related Internet Links
The BBC is not responsible for the content of external sites.