Asos sales boosted by international growth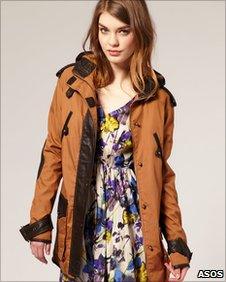 Asos has reported a sharp rise in full-year revenue as sales at the online fashion retailer's international business continue to grow rapidly.
Revenue for the year to the end of March was up by 52% to £339.7m, with international sales rising by 142%.
Pre-tax profit was £15.7m against £20.3m the previous year, due to £12.9m of relocation costs. Taking out these costs, profits rose 41% to £28.6m.
The company said it remained on track to hit £1bn of sales by 2015.
"I am pleased to report another successful year for Asos," said the group's chief executive Nick Robertson.
"We remain positive in our outlook for 2012 and are excited by the opportunities for both our UK and international businesses."
International sales were the key driver of growth, with sales more than doubling to £140m. UK sales rose by a quarter to £184m.
During the year, Asos launched sites in the US, France and Germany, and said it planned to launch in three further countries this financial year.
The total £12.9m cost of relocating to a new warehouse included one-off reorganisation and distribution costs of £9.9m.
Asos has reported consistently strong results in recent years, in contrast to many High Street retailers who have struggled to bounce back from the recession.
Related Internet Links
The BBC is not responsible for the content of external sites.