Spyker finance head to step down after Saab rescue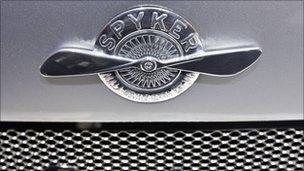 The chief financial officer of Dutch car firm Spyker will step down in July.
The departure of Hans Go comes after he helped arrange the rescue of Spyker's main subsidiary, Saab, by a new Chinese business partner, distributor Pangda.
Spyker recently sold off its sports car unit - its only other major business - to Russian tycoon Vladimir Antonov.
That move left Mr Go's role redundant, and the firm has said that henceforth the position will be taken on by Saab's own head of finance.
Mr Go will remain as an adviser until the end of this year, to help with the transition of Saab in its new Chinese business arrangement.
Saab was able to restart production at its Trollhattan plant in Sweden last Friday after it concluded a deal with Pangda that gave it access to 30m euros ($43m; £26m) immediately, which it used to meet back-payments to suppliers.
The Chinese car retailer has now confirmed it will provide a further 15m euros.
Related Internet Links
The BBC is not responsible for the content of external sites.