Energy saving Green Deal scheme comes closer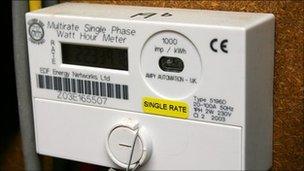 The government has revealed more details of its Green Deal scheme to help people pay for home insulation and other energy saving measures.
The plan should be launched in the autumn of next year.
Under it, authorised companies will pay for the insulation work and homeowners will repay the money, plus interest, through additional charges on their energy bills.
The government hopes people will repay loans of up to £10,000, over 25 years.
Climate change minister Greg Barker said: "The Green Deal is the government's flagship energy saving plan to transform the country's homes to make them warmer and cheaper to run.
"From next year, people will be able to access up to £10,000 upfront to pay for energy efficiency work, repaying the costs through savings on energy bills."
The scheme still requires a lot of work before it is ready to start.
A few firms such as Marks & Spencer, B&Q, Tesco and British Gas have expressed an interest in marketing the scheme and providing the finance.
But the law will need to be changed so that energy firms will be obliged to collect the repayments from homeowners via their energy bills.
The law will also need to be altered so that anyone who buys after the work has been done, but before the bill has been fully paid, is obliged to take on the debt and repay it.
These legal changes are included in the current Energy Bill, which is going through parliament and should receive its Royal Assent this July.
It has also not yet been decided just how much interest will be added to the loans.
The firms who eventually market the Green Deal will employ assessors to estimate just how much a householder can save through various insulation or heating measures.
These may include loft insulation, condensing boilers, draught proofing, solar panels and double glazing.
Once the work is assessed and agreed, the installation work will be contracted out to accredited installers.
Then the homeowners will have to start paying.
A key feature is that homeowners must be able to save more on their energy bills than they pay back.
What is the attraction for the big firms that the government hopes will market the scheme?
"Companies will see it as a marketing opportunity to sell other things," said a spokeswoman for the Department of Energy and Climate Change.
Anne Robinson, of the price comparison website Uswitch, said: "People who have the Green Deal will be paying a lot less for their energy after a year or two."
But Richard Lloyd, of the consumers' association Which?, warned against the dangers of shoddy workmanship.
"Our latest research into cavity wall insulation uncovered inadequate inspections and poor advice," he said.
"For this scheme to be a success, Green Deal assessors need to be held to the highest standards."