Acer shares fall after $150m write-down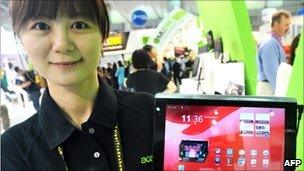 Shares in the world's second-biggest PC maker Acer have dropped after it said it would write off $150m (£91.7m) for "abnormalities" in stocks and accounts.
In Taiwan, Acer's shares fell by 7% - the maximum allowed - in response to a statement on Wednesday that said it needed to set aside the money after an internal audit revealed the problem.
The company also said it would cut 300 jobs in Europe.
Acer's shares have struggled since it cut its revenue forecast in March.
That caused shares to fall 18% over the next few days, and triggered the resignation of the chief executive.
Less than a month later it reported a 64% fall in first-quarter net profit.
Acer's statement on Wednesday said that internal audits had found "abnormalities in terms of channel inventory stored in freight forwarders' warehouses, and in accounts receivable from channels in Spain".
Acer's traditional personal computer products are being squeezed by faster-growing tablet computers, such as Apple's iPad and the Samsung Galaxy Tab.
It entered that market earlier this year with its own tablet model.
Related Internet Links
The BBC is not responsible for the content of external sites.