Prosecutors 'ask Goldman Sachs to explain behaviour'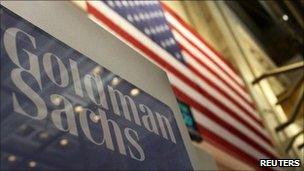 New York prosecutors have asked Goldman Sachs to explain its behaviour in the run-up to the financial crisis, according to several news agencies.
They quote sources saying that the investment bank received a subpoena from the Manhattan district attorney.
Goldman is also being investigated by the Securities and Exchange Commission (SEC) and the Justice Department.
An April Senate report said Goldman had encouraged investors to buy mortgage-based products it knew would fail.
The report said that Goldman had shifted risk from its own balance sheet onto investors, while deceiving them about the bank's own positions.
A Goldman Sachs spokesman said that the company always cooperated with subpoenas but would not comment on specific legal issues.
Goldman Sachs shares ended the day down 1.3% and have fallen by 20% so far this year.
The request for information is an early stage in an investigation, but it does not necessarily mean that any charges will be filed.
Goldman Sachs agreed to pay $550m (£336m) last summer to settle civil fraud charges from the SEC, which claimed it had misled buyers of mortgage-related securities.
Goldman did not admit to breaking the law, although it conceded that some information had been left out of the information provided to buyers.
Related Internet Links
The BBC is not responsible for the content of external sites.