Camelot sets new lottery sales record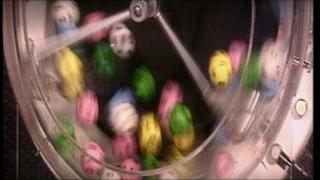 National Lottery operator Camelot has announced record ticket sales of £5.8bn in the year to March.
That marked a 6.8% increase on a year ago and beat the previous record of £5.5bn set in 1997-98.
Seven of the world's 10 biggest lotteries have seen sales fall in the last year.
Camelot says it is bucking the trend by offering players new games and new ways to play, including new-look draws, new scratchcards and 3D games online.
It said its new Thunderball game and the Euromillions draw had boosted ticket sales.
It gave £1.7bn to good causes, while prize winners were awarded a total of £2.9bn.
The company, which is owned by the Ontario Teachers' Pension Plan, was awarded the National Lottery franchise in 1993.
Camelot chief executive Dianne Thompson said the record sales were the result of "a proven strategy for long-term, responsible growth".
BBC media correspondent Torin Douglas said the figures were good news for the London Olympics which has received £600m from specially designated Lottery games, and for the arts, heritage and charities which are facing cuts in their other income.