Genuine shopping websites listed in online directory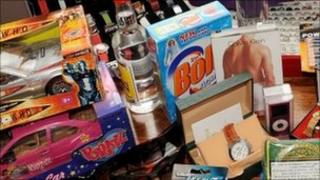 An online directory of websites that sell genuine branded goods like clothes and handbags is being supported by trading standards officers.
The site, called Brand Information Limited - or Brand-i - is a private initiative.
It aims to help shoppers avoid websites that sell fake luxury goods.
The Trading Standards Institute said this should help people avoid being conned out of billions of pounds a year.
'Brand-i offers a way for consumers to wade through the hundreds of counterfeit stores that appear in search engine results or on social media pages," said Andy Foster, of the Trading Standards Institute.
"It is an important additional tool in fighting internet crime but also empowering consumers - not just with the directory listings but advice on how to recognise illegal web stores.
"There is also a facility for consumers to report sites they have been ripped off by or what they suspect aren't genuine," he added.