Li Na: A corporate sponsor's dream ticket?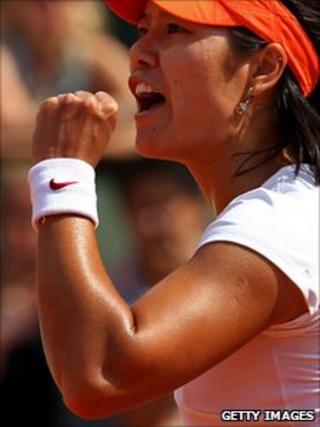 If you had asked sports sponsors for an ideal brand ahead of the French Open, Li Na may well have been it.
The 29-year-old surprise winner is the first Chinese star to make it big in such a major sport.
And not only has she broken ground on court, but experts say the plain-speaking, tattooed, individualist has the ability to transcend the sport and become a global star.
From ice cream to banks
"It's absolutely massive," says Nigel Currie, director of the sports marketing agency Brand Rapport.
"There are only two sports for women where they can find that level of recognition and endorsement - golf and tennis."
But, he notes, tennis is the only one where the women's game is treated on a par with the men's.
He thinks Li Na may be set to become one of the highest paid sportswomen of all time - beating even Maria Sharapova, who he says makes £18m ($29m) a year.
Of course, the win has not come completely out of the blue.
"People have been looking at Li Na for a while," says Steve Martin, chief executive of M&C Saatchi Sport.
She signed a deal last year with Nike, before reaching the Australian Open final earlier this year.
After that success, she signed deals with Rolex, whose watches have long been associated with tennis, as well as ice cream maker Haagen Dazs, who were branching into sports celebrity sponsorship for the first time.
But her big win could now open the floodgates.
Cultural barriers
It is her high profile in China that will be immediately enticing for corporate sponsors, according to Jim Ribbans, executive producer at ESPN Star Sports.
"The interesting thing about Li Na is that she is going to be a symbol for China now even more than before," he says. "If you have Li Na, you have the eyes of China on you."
She is already mopping up everything in China, he says, where she has become one of the country's most famous sports personalities.
That will make her very attractive for any foreign company looking to break into the Chinese market - a tough nut to crack.
"It's very, very hard to get access to China," warns Mr Currie.
Besides the obvious linguistic and cultural barriers, the Chinese government has also stymied the attempts of foreign brands to make an impression on their consumers in the past.
Many firms wanted to use the Beijing Olympics as a vehicle to promote themselves, only to find themselves heavily restricted as to which print and broadcast outlets they could appear on.
But in the case of their new tennis star Mr Currie thinks that, far from trying to limit her appeal, the Chinese authorities will look to her as an ambassador for the country.
Winners and losers
But the big money for Li Na will lie in whether she can make it as a global brand.
The French Open win could open the door to the big soft drinks companies, and perhaps one of the banks seeking a way to humanise their story, according to Mr Martin of M&C Saatchi.
Anglo-Chinese HSBC is one name often touted.
Li Na has also timed her ascendancy well.
"Women's tennis has desperately needed this," says Mr Martin.
For the last few years, since Maria Sharapova's injury and the waning of the Williams sisters, he says the sport has lacked the recognisable faces it used to enjoy.
But ESPN's Jim Ribbans cautions not to jump to conclusions just yet, noting that she will need to win a few more tournaments yet.
And winning is not everything.
Mr Ribbans points out an unfortunate truth of women's tennis is that "the ones that make the most [sponsorship] money are not necessarily the ones that win".
The high off-court earner Anna Kournikova and big on-court winner Lyndsay Davenport make an obvious contrast.
Tattoo
Indeed, if Li Na is going to make it on the global stage, it is essential for her to transcend her sport, and become a personality in her own right, according to Mr Martin of M&C Saatchi.
And so far, she seems to have played a strong hand.
"She's not like a robot," notes Mr Martin. "She's got a bit of an edge to her."
Mr Currie agrees: "It's not like she's just an anonymous Chinese athlete, of which there are a few.
"She's a genuine character. She speaks English pretty well. She understands the media well, says the right things at press conferences."
Certainly her tattoo and her dramatic decision to sack her husband as her coach, mark her out as an interesting and strong individual.
One way she can use that to her advantage is via the social media, adds Mr Martin.
He points out that many sports personalities now use Twitter and Facebook to make themselves more accessible to fans.
These outlets can also be used for sponsorship - for instance some golfers tweet links to behind-the-scenes footage of sponsored events.
"What she really, really needs is a good agent about her," says Mr Martin.
"Requests will come in for her from every corner of the earth, and they will have to be chosen very carefully."