Australia keeps rates at 4.75% after economy slows down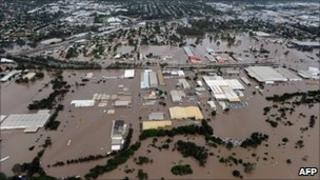 Australia's central bank has left interest rates unchanged after recent natural disasters hurt the country's economic growth.
The Reserve Bank of Australia (RBA) has left its main rate unchanged at 4.75%.
Last week, Australia reported its biggest quarterly fall in gross domestic product (GDP) in 20 years saying its economy contracted by 1.2% in the first three months of the year.
The country was hit by floods and cyclones earlier this year.
Glenn Stevens, governor of the central bank, said that the twin natural disasters had hurt Australia's economy hard.
"The floods and cyclones over the summer have reduced output in some key sectors," Mr Stevens said in a statement..
"As a result there was a sharp fall in real GDP in the March quarter," he added.
He went on to say that given the damage caused and the overall condition of the Australian economy "the current mildly restrictive stance of monetary policy remained appropriate."
'Close to target'
One of the key concerns for central banks in the region has been rising prices.
The Australian central bank has responded by raising rates several times in the past year.
The RBA is confident that inflation is not getting out of control.
"The weather-affected prices should fall back later in the year, though substantial rises in utilities prices are still occurring," Mr Stevens said.
"The Bank expects that, as the temporary price shocks dissipate over the coming quarters, CPI inflation will be close to target over the next 12 months," he added.
Back on track
While Australia's growth has been hit hard in the first three months of the year, the economy is expected to pick up speed in the current quarter.
Reconstruction efforts in areas hit by the floods, combined with a resumption of production in the affected mines are expected to help the economy get back on track.
"Over the medium term, overall growth is likely to be at trend or higher," Mr Stevens said.
However, analysts said that even if the economy picks up pace, the central bank is not likely to raise interest rates immediately.
"It comes down to the June quarter numbers and those will be released in late July," said Michael Workman of Commonwealth bank.
"That's why we think August is likely to be the date for a rate rise," he added.