World Bank highlights global growth disparities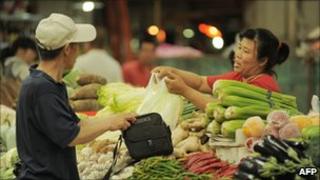 Developing economies risk overheating while their more developed counterparts remain in a post-financial crisis hangover, the World Bank has said.
While growth in developing economies will slow to about 6.3% a year for the next three years, from 7.3% in 2010, inflation must be tackled, it said.
In contrast, developed countries remained hampered by high unemployment and high debt.
Global growth could be hit by rising oil and food prices, the bank added.
It said it expected the global economy to grow by 3.2% this year, with growth picking up to 3.6% in 2012.
What the bank called "high income" countries would see growth slow to 2.2% this year from 2.7% in 2010, before rising to 2.7% again in 2012.
Food prices
In contrast, "the financial crisis for most developing countries is over," the bank said.
"Many developing countries are operating above capacity and are at risk of overheating, most notably in Asia and Latin America," said Hans Timmer, director of development prospects at the bank.
Governments needed to step up their efforts to tackle inflation, which reached almost 7% in March, the bank said.
The bank also warned of higher commodity prices.
High oil prices and shortfalls in production due to bad weather have contributed to higher food prices, which have hit the poor particularly hard, it said.
"Further increases in already high oil and food prices could significantly curb economic growth and hurt the poor," said the bank's chief economist, Justin Yifu Lin.
On Tuesday, the United Nations Food and Agriculture Organisation said global food prices would remain high and volatile throughout this year and into next despite record food production.
It said higher food prices could see poor countries' import costs rising by up to 30%.