Fuller's profits rise and makes good start to new year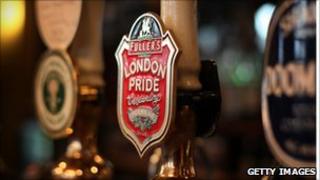 Brewer and pub operator Fuller, Smith & Turner has reported a rise in full year profit and says it has made a good start to the new financial year.
Pre-tax profit for the year to 2 April 2011 rose 16% to £31m.
Total beer sales rose 2%, while revenues increased 16% to £241.9m.
London-based Fuller's said the first nine weeks of financial year had been "unusual", with trading benefiting from the royal wedding, five bank holidays and "generally very good weather".
Like-for-like sales in its managed pubs grew by 6.8% in the nine weeks to 4 June 2011, compared with a year earlier.
Fuller's has 162 pubs which it directly manages and 196 tenanted inns, in which landlords rent the pub and get their supplies from Fuller's.
The group added that it had acquired four new pubs in that time and a major brewery investment was under way.
But looking ahead, group chairman Michael Turner sounded a note of caution.
"With wages in the UK running behind inflation, our customers' incomes are being squeezed and we will have to work hard in the current year and beyond to earn their custom," he said.
The dry weather at the moment would have an impact on barley prices but he said was not overly concerned.
"Barley prices go up and down with the seasons. Clearly there's a drought on at the moment which may make life a little bit harder," he told the BBC.
"But we actually buy our barley about three years ahead, which makes it easier for the farmer to predict his future income and also for us with our purchases."