Hermes shares slide after LVMH rules out takeover bid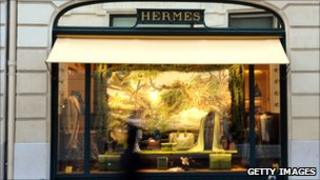 Shares in French luxury goods group Hermes have fallen more than 5% after rival LVMH said it had "no intention" of launching a takeover bid.
There had been widespread speculation that LVMH, the world's largest luxury goods company and owner of Louis Vuitton and Moet & Chandon champagne, may make a bid for Hermes.
LVMH's denial was sparked by reports on Thursday that a takeover bid was imminent.
It already owns about 20% of the group.
"The LVMH group has absolutely no intention of making a bid for Hermes," a spokesman for the company said.
Record revenue
Sales at both groups have risen sharply, partly thanks to surging demand in developing economies such as China.
Hermes made a net profit of 421m euros ($610m; £374m) in 2010, a rise of almost 50% on the previous year, with sales rising by a quarter to 2.4bn euros.
It plans to open 13 new stores this year.
LVMH saw record revenues of more than 20bn euros in 2010, with operating profit up by almost a third.
Earlier this year, the group agreed a 3.7bn euros deal to take over Italian jeweller Bulgari.