Bank of England focuses on inflation expectations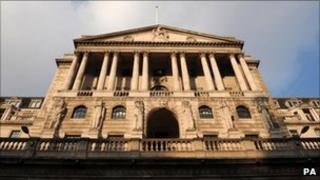 People expect the inflation rate to come down in the long-term to 2%, from 4.5%, the Bank of England has said.
Inflation expectations are considered important because if people believe inflation will continue to rise, higher wage demands and price rises can make the situation worse and harder to tame.
The bank said in the short term, expectations were "elevated".
However, in its Quarterly Bulletin, it said there was little evidence it was "entrenched" or affecting behaviour.
The assessment could reinforce the views of those on the Bank's rate-setting committee who believe that high inflation will not be a long-term problem if it fails to fuel higher wage rises - and that therefore, there is no need to raise interest rates.
The report said there was still concern about the findings.
"But because inflation expectations cannot be observed directly and there are significant uncertainties surrounding the different indicators used, this risk can be assessed only imperfectly and it remains a key area of concern for the [Monetary Policy] Committee," the report said.
Consumer prices inflation hit 4.5% in April - more than double the Bank's 2% target - and has been above 3% since the beginning of last year.
The next set of inflation data is released by the Office for National Statistics on Tuesday.
The Bank also found public satisfaction with its performance had waned.
The proportion of respondents saying they were happy with the Bank's work still exceeded the share that were unhappy by 20 percentage points.
But that was down from 50% in 2007, suggesting that the stubbornly high inflation during the economic recovery may be harming the Bank's credibility.
Credibility fear
Several hawkish members of the Bank's Monetary Policy Committee have raised the concern that if inflation does not come down soon, then people may start to believe it will remain high in the medium to long term.
Their biggest fear is that the Bank's inflation-fighting credibility could be damaged.
That would make the Bank's job even harder, as, for example, workers may start to demand higher wage increases to keep up with the rising cost of living.
For this reason, three MPC members have voted for a rate rise in recent meetings, even though there is no clear evidence yet of expectations changing.
The Bank's latest research laid out a framework for how changing expectations might affect the actual inflation rate, and what the Bank will be watching out for.
The bulletin also looked at what happened in other countries during periods of high inflation.
It concluded that expectations do typically rise after a while, and remain high up to 18 months after inflation has already been brought back down to target.