Inflation: Talking about the rising cost of living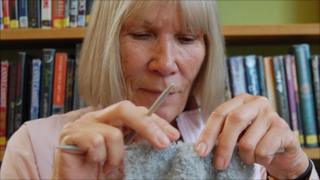 Members of the Monday morning knitting circle need not look far for an example of where rising prices have affected their lives.
"Good quality wool has got quite expensive," says Mandy Snelling, a 62-year-old retired childcare professional.
"It cost £32 just for the wool for this tabard. It would have cost even more if it had sleeves!"
Members of the Knit and Natter Club meet every Monday in the local library of the Kent market town of Tonbridge.
"It is far more 'natter' than 'knit'," says Judith Ackrill, 62.
They need little encouragement to talk about the rate of inflation in the UK - which stood at 4.5% in May - and how families are coping with increasing prices.
Filling up
Food and fuel feature prominently in the conversation.
Alison Brookes, 66, who is knitting a hooded blanket for children in Africa, says she has seen coffee prices leap from under £2.50 to more than £4 in her local supermarket.
Butter, too, has risen sharply in price, she says.
Gas and electricity bills, and petrol prices have also increased steeply, they all agree.
"My husband has just retired, and when he fills up the car I have to remind him that we are paying for it," says Mrs Ackrill.
Childcare costs
The focus of food and fuel in the budgets of those aged over 50 mean that the 50-to-64-year-olds face the highest rate of inflation, according to calculations by investment company Alliance Trust.
Their wages have failed to keep pace with these rises, in much the same way as pensioners' savings rates are well below the inflation rate.
"When you retire, you think you have put enough aside to see you through," says Mrs Snelling, whose husband has decided to work on past pension age.
"Even if you are getting the best rates, they are not keeping up with inflation and you do not want to be a burden on your children."
However, they agree that rising prices mean grandparents are having to carry their share of childcare duties - a different scenario from the previous generation.
The group say that grandparents are often seen with their grandchildren in the High Street, as parents are having to return to work.
Party over
Meanwhile the grandparents themselves are having to take care with their own spending.
"You have to think twice about what you are going to buy and ask yourself whether you want it or need it," says Mrs Ackrill.
"Nine times out of 10, you do not really need it."
A short distance from the library, in the Supreme Card and Party Shop, that choice for consumers has had a clear effect.
The "yellow shop", as it is known to many locals, is available for let. Inflation is good for balloons, but bad for balloon sales, it seems.
With suppliers increasing their charges, the shop has been trying to avoid passing on these costs to customers.
"Kids pick things up, but their mums are being careful with how they spend," says Debbie Farnum, who has worked at the store for three years.
"They are not spending on things that they do not have to buy."
A report published by the Institute of Fiscal Studies (IFS) suggests that the poorest households have suffered worse from higher inflation than richer households over the last decade, and most notably since 2008.
Travel
Tonbridge became a market town when the Earl of Gloucester was granted the right to hold a weekly market in 1259.
But the town's prosperity grew when the River Medway became navigable and became a key trade route and shipbuilding centre.
Now navigation to London - by train, rather than on the river - is hitting the pockets of hundreds of Tonbridge residents.
Their cost of living rose sharply when, in January, an 11.8% increase in the annual rail season ticket to London was one of the fastest rising costs for commuters in the country.
At £3,408 a year, the rail fare can take a chunk out of these commuters' wages, unlikely to be matched by any equivalent rise in pay.
Back at the town library's knitting circle, the retired craft enthusiasts say they had the best of times compared with the younger generations - despite research suggesting inflation can bite harder as people get older.
The cost of stitching, in time, may fall but meanwhile they are all looking to save money where they can.
"I've started ordering my patchwork fabric on the internet from the US," says Mrs Ackrill.
"I just have to hope it is the correct colour when it comes over."