Southern Cross relatives: I just don't want to move her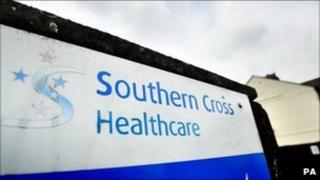 "On Thursday she was in floods of tears, on Saturday she was very angry," says Beverly Taylor, whose 83-year-old mother is in a Southern Cross care home.
Her mother moved into a home run by the struggling firm 18 months ago, having been forced to give up her bungalow.
"She's got dementia, but that doesn't make her stupid. She watches lots of television, reads the newspapers and knows what's going on," she says.
Southern Cross is due to meet the government and its landlords on Wednesday for crucial talks about the future of the company, which is in financial difficulty.
It has said that all homes will stay open until October, but beyond that the firm hasn't given any indication of which homes, if any, may close.
Adding to the uncertainty, hundreds of the companies' 751 homes may be transferred to new ownership as part of negotiations with the landlords.
For Ms Taylor and many others who have contacted BBC News, the biggest problem is a lack of information.
"We've not had a letter or anything," Ms Taylor says.
The company says managers have been updated on the situation 11 times in April alone. They say relatives should be invited to meetings at care homes.
"They are saying on the internet that those old homes with under-occupancy are going to close. Well they've obviously not decorated this home for 20 years. They've done bits and bobs but it's not revamped and it's not full," says Ms Taylor.
Stability
"With all sorts of dementia they need to be in a settled environment. She didn't even know at one stage that there was an upstairs and a downstairs - now she can use the lift herself."
"Within her limitations, whatever potential she's got she is reaching in this home. We're even going out to the theatre on Saturday - she is coming to the theatre with me. I just don't want to move her anywhere." she says.
"The quality of care is absolutely excellent, I can't fault it," she adds.
But Ms Taylor is worried the firm may have to cut staff to manage its costs.
"I don't know how they will be able to cut staff. I've asked the staff - they're not able to. They are on the absolutely minimum staff, I know they are."
Adele Brunton shares those concerns.
She is nurse at a Southern Cross home in Kingsthorpe, Nottinghamshire.
"The job is rewarding, I've really enjoyed it. Now the financial state has become very alarming and we all feel rather uncertain. I think my job will probably go. To managers I'm just a payroll number."
"It's not our fault, we are the front line staff. It does seem to me that the ones who are doing all the work are possibly the ones who are going to be most affected."
Gareth Jones's wife works for Southern Cross but is currently on maternity leave.
She is a care worker in Pontypridd in South Wales but preferred not to talk to us directly because of concerns about her job.
"We just want to know what's happening so we can plan and apply for jobs rather than returning from maternity leave and be told there is no job for you. We've tried ringing and they still won't give us an answer," says Mr Jones.
The company has announced proposals to cut its 44,000 workforce by 3,000 across the UK. It says the proposals are part of changes designed to improve care.
Negative publicity
Ms Brunton is worried the negative publicity will only make things worse.
"It's likely to have a double impact because people won't look for something that could turn out to have a negative experience."
Trish, who works at a home in Scotland, also preferred not to give us her full name.
"I wish the news would leave it alone," she says. "It's not good for people."
"I don't take any notice of it. I'm there to do a job, not to worry about who owns what building and landlords," she adds.
Home concerns
Some who contacted the BBC do have concerns about how some homes are run.
"My mum moved there in January and between my brother and I we've let them have a direct debit and they've never collected any money, they've never billed us," says Elaine Pearson from Edwinstowe, in Nottinghamshire.
"I do believe that the one that my mum's in will be one of the ones that closes. It's got a zero rating... I fear for the future greatly," she adds.
Dr David Rae says his relative's home has recently been taken over by Southern Cross.
"The manager left and hasn't been replaced and there is some evidence of cost reduction in leisure and therapy activities," he says.
Bail-out
But most who contacted BBC News are happy with the homes and want to see them survive.
"I personally feel that Southern Cross are victims. Southern Cross needs help," says Brian Thurgood from Darlington.
"My wife has been living at the Lakeside Care Centre in Darlington since January this year," he says.
"She is completely settled there, and for someone who is easily confused that is a great benefit."
"The government stepped in with Northern Rock and other banks to safeguard people's money, but why can't they do the same here when people's lives are at stake?"