Greek debt crisis hits markets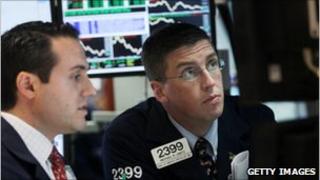 The cost of Greek debt has risen sharply on fears that Greece may have to write off large amounts of its debt to other countries and banks.
The yearly interest on Greek two-year bonds has risen from 23.19% to 26.98% in the last week.
European stock markets also fell during the day, led by the shares of banks who have leant money to Greece or hold stakes in Greek banks.
Greek two-year bonds are now worth 69% of their face value.
The low price of Greek debt implies traders are less and less confident that Greece can pay back its loans.
"It is going to be very difficult to see any way in which Greece is going to be able to become solvent again," said Charles Jenkins, regional director for western Europe for the Economist Intelligence Unit.
"It's not a choice between Greek austerity and not paying back its debt, both are going to happen," he added.
Investors reacted to the worries by moving their money away from the European single currency. The euro fell 1.8% against the dollar to $1.419.
On the stock markets, French banks were particularly hard hit after ratings agency Moody's warned that it was reviewing the credit rating of Societe Generale, BNP Paribas and Credit Agricole due to their exposure to Greek debt. Shares in those leading banks all closed down about 2.5%.
Credit ratings are an indication of how safe it is to lend to a company or country.
The three French banks would all lose money if Greece was unable to pay back its debts.
"We're seeing such wild swings in the banking stocks around Europe as the markets are trying to guess who is going to have to take the pain," said Alistair McCaig a market analyst at World Spreads.