Cheque use given backing by government minister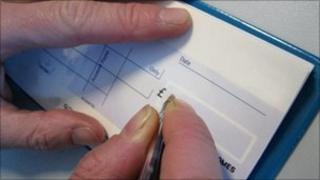 There is no "credible and coherent case" for the abolition of cheques before an alternative is fully tested, a government minister has said.
The view of Mark Hoban, Financial Secretary to the Treasury, was discussed during a Treasury Committee hearing into the future of cheques.
The UK Payments Council is planning to phase out cheques by 2018, but only if viable alternatives are found.
The council's chairman said it had not explained this process well to users.
Tough questions
The Treasury Committee studied the planned abolition of cheques a year ago.
However, following 1,200 letters and e-mails to MPs on the committee from those uneasy about new technology, it has decided to reopen the inquiry.
At Wednesday's hearing, members of the committee tore into representatives of the Payments Council for its plan to phase out cheques.
"It is an appalling mess. It is a scandal. This is even worse than a colossal error of judgement," said committee chairman Andrew Tyrie.
Committee member David Ruffley said: "This has scared the pants off middle England."
A final decision to switch off the conventional cheque clearing system is scheduled to be made in 2016.
However, if the 2018 target date is deemed not feasible, either in 2016 or at an earlier review date of 2014, then the plan could be revised or the implementation date moved.
Letter
Members quoted regularly from Mr Hoban's letter which criticised the process and said the government could intervene.
"Regrettably, the announcement was made without an assessment of the costs and benefits, or a plan or timetable for managing the process, or an indication of what alternative payment instruments might need to be created," the letter said.
"The result has been to create a great deal of uncertainty and alarm across the country."
This was particularly felt by the elderly, schools, clubs, charities, rural communities and small businesses, the letter said.
Mr Hoban, who said 1.1 billion cheques were issued in 2010, added that the government was considering whether it might need to intervene to protect vulnerable people and businesses if cheques were withdrawn before suitable alternatives were in place.
Payments Council chairman Richard North said that there was never any intention of abolishing cheques before adequate alternatives had been created and adopted.
He said that this message had not been communicated well to the public.
Mr North told the committee that alternatives could include transferring money on mobile phones in a similar way to sending a text message, just by knowing the other person's phone number.
A "paper-based alternative" that would look like a chequebook but would operate in a different way could also be in place.
The use of cheques has fallen by 70% since 1990 and by 42% in the last five years, Mr North said.
It is expected to decline by a further 40% in the coming five years.
Industry
The committee questioned whether the Payments Council should be making the final decision, given that its membership is dominated by members of the industry.
Mr North said that the four independent members of the board had a veto on any decision if they voted together.
One board member: Ron Delnevo, chief executive of Bank Machine, told the BBC: "New replacements for cheques will surely emerge in the next few years.
"If those replacements satisfy the needs of all current cheque users, perhaps it will be right to phase out cheques. If the public is not satisfied, cheques should continue as an important part of the overall UK payments market, alongside cash and cards."
RBS recently said it would not phase out cheques unless customers accepted their demise.