Prada listing key for faltering Hong Kong IPO market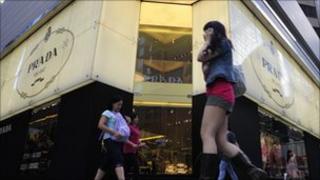 It's a nerve-wracking time for Italian fashion house Prada and those involved in its landmark listing on Hong Kong's stock exchange.
It is the first Italian and first luxury goods group to list in the city and will mark the fifth time Prada has tried to pull off a flotation.
The stock exchange hopes the listing will secure a lasting legacy - paving the way for a flood of western brands hoping to tap the spending power of the Chinese consumer - and cement its position as the world's biggest IPO market.
"Nobody anointed Prada the guinea pig, but they are in the vanguard," says Jesus Seade, a professor of economics at Hong Kong's Lingnan University.
"If they do well, people will sit and take notice - but if they get burnt, there will be some reconsideration," he says.
Luxury goods brands Burberry and Coach have expressed interest in listing shares in Hong Kong, and Manchester United owners are reported to be watching Prada's flotation carefully.
Bad timing?
With markets falling in Asia and the US, investors are finding it harder to muster up enthusiasm for new share issues and a number of recent initial public offerings (IPOs) have faltered.
Luggage company Samsonite fell as much as 11% on its first day of trading, after pricing its share offering at the bottom end of a proposed range.
Australian mining company Resourcehouse shelved its share offering a couple of weeks ago.
And Macau casino operator MGM China and commodities giant Glencore, which listed earlier this year, are now trading below their debut prices.
"Compared to 2010 the market has been soft this year and some issuers are taking a wait-and-see approach," says Manoj Agarwal, head of corporate finance group at the Royal Bank of Scotland.
"As Asian inflation fears subside and global economic certainty increases, you will see companies returning to the IPO markets again."
Tepid response
Prada's success is by no means assured.
While reports suggest institutional investors have been keen on buying the fashion company's shares, local investors have so far been lukewarm.
They complain that the valuation, at up to 28 times 2011 forecast earnings, is too high.
Rival Italian luxury group Salvatore Ferragamo that is looking to list in Milan is valued at up to 21 times.
And they are discouraged by the capital gains and withholding tax that Hong Kong shareholders in Prada will be obliged to pay under Italian law.
Italy and Hong Kong do not have a double-taxation treaty and that means Hong Kong residents who buy Prada shares will be liable to a 12.5% tax on gains earned by selling their holdings.
They will also be subject to a withholding tax of 27% on dividend payouts.
Money magnet?
Hong Kong has been the world's biggest IPO market for the past two years, raising $57.4bn (£35.6bn) in 2010.
"That's some track record," says Andrew Weir, a partner at KPMG in Hong Kong.
However, the city may be in danger of losing that crown to the United States.
Companies listing in the US have raised $27bn so far this year, while Hong Kong has raised US$18bn, according to data from Dealogic.
Hong Kong is still ahead of London, where companies have raised $14bn so far this year.
The city also faces a new threat from Shanghai.
The Chinese city is expected to launch an international board for foreign firms that would provide an alternative to Hong Kong for companies looking to list closer to China's lucrative market.
"The law and regulation is in the process of being finalised and it's likely that a number of companies will want to list in Shanghai," says Mr Weir.
"But Hong Kong is a mature market, with well-established regulation and corporate governance, and that should protect its position."
Tap runs dry
Hong Kong's IPO success in recent years has largely been down to the hundreds of mainland Chinese companies that have listed in Hong Kong.
According to Prof Seade, that tap is now beginning to dry up as China's biggest state-run companies have already floated.
As such, Hong Kong's ability to attract more international companies like Prada will be key to maintaining its position as the world's top IPO market.
The stock exchange has made attracting foreign companies a priority in recent years.
It has introduced Hong Kong depositary receipts, which makes listing possible for companies from countries such as Japan that prohibit overseas share issues.
But by the end of May the city only had 18 international companies listed.
That pales in comparison with the more than 600 in London, 495 in New York and 43 in Singapore.
It's not just bragging rights.
Maintaining Hong Kong's position as a top IPO market is seen by many as key to preserving the city's role as Asia's main financial centre.
Once a company has listed, it will tend to use the same market to raise further capital.
"IPOs are a highly visible market that contributes to a financial centre's prestige and image," says Prof Seade.
"The knock-on effects are very important."