Alibaba splits Taobao, China's biggest retail website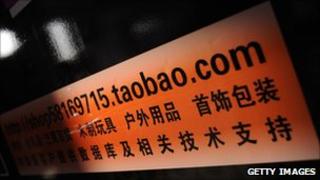 Chinese internet giant Alibaba has announced that it is reorganizing one of its websites, Taobao, into three separate units.
Taobao operates China's biggest online shopping site, hosting 30,000 online stores.
About 53,000 items are sold on the Taobao website every minute.
Alibaba said it is splitting the website into Taobao Marketplace, Taobao Mall and and eTao which will focus on different types of business.
The restructuring will see Taobao Marketplace concentrate on consumer-to-consumer business, while Taobao Mall will specialise in business-to-consumer transactions.
The company said eTao will be a product search engine designed to make it easier for consumers to find goods and services offered by all e-retailers.
"We believe this move will benefit our customers, as each of the three companies will be able to focus on its own unique consumer experience," the company said in a statement.
IPO speculation
The tremendous success of Taobao has fuelled speculation in recent times about a potential listing of the company.
However, Alibaba said that the decision to split the company was a clear indication that it was not planning any such move.
"The decision to split Taobao into three companies makes abundantly clear what we have been saying for years, there is no Taobao IPO [initial public offering]," said Alibaba spokesman John Spelich.