EU block on making banks safer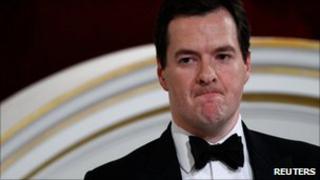 European Union ministers, especially French and German finance ministers, are trying to restrict the powers available to the UK's new Financial Policy Committee, which has its first meeting today.
That was a warning - in not very coded form - given last night in the Mansion House speech by the Chancellor, George Osborne.
A new European Union Capital Requirements Directive, as currently drafted, would make the new 7% ratio of equity capital to assets, set out in the Basel III global agreement, the maximum ratio that regulators in Europe could impose on banks.
This, according to Treasury sources, would make it impossible for the FPC to force British banks to hold more capital, as a protection against losses and to slow down lending, as and when the FPC spots a new bubble, such as a renewed and worrying boom in the housing market.
The FPC, which will be part of the Bank of England and will sit alongside the Monetary Policy Committee that sets interest rates, is supposed to identify incipient dangers in markets of the sort that led to the great crash of 2007-8. And the FPC is also supposed to have the tools to reduce or eliminate these risks (see my note of Monday for more on this).
According to a Treasury source, there has been a "big row" on the European finance ministers committee, Ecofin, about this, with Mr Osborne and the Swedish finance minister pitched against their German and French counterparts.
Mr Osborne sees the French and German position as a distortion of what the Basel committee agreed. Basel III makes explicit provision for capital ratios to be varied on a discretionary basis for so-called macro-prudential purposes, to deflate bubbles.
He said to bankers last night: "we want to see the full implementation of the new Basel standards, right around the world, including here in the European Union.
"It's vital that those European rules give national regulators the discretion to add to the Basel requirements when national circumstances demand it".
Arguably this Franco-German attempt to turn the Basel requirement into an EU maximum is an attack on the UK's fiscal or tax independence: if the FPC were to lack the tools to reduce dangerous risks in financial markets, that would increase the likelihood of British taxpayers' money being used to bail-out reckless banks.
And it is not just the FPC's capabilities that are at risk. An EU 7% capital ratio maximum would also in theory prevent the chancellor imposing a 10% minimum on British retail banks, which has been recommended by the Independent Commission on Banking and has been broadly endorsed by Mr Osborne.