US current account deficit widens as oil imports rise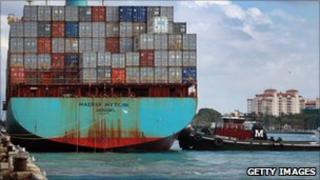 The US current account deficit rose 6.3% to $119.3bn (£74bn) in the first three months of the year, the Commerce Department has said.
Strong exports of cars, computers and machinery were offset by imports, particularly of more expensive oil.
The deficit for the quarter represented 3.2% of US gross domestic product, up from 3% in the fourth quarter of 2010.
Separately, the number of new homes built in April rose 3.5%, but house building remained subdued.
Earthquake impact
The current account deficit measures the flow of goods, services and investments in and out of the US.
For the January-March period, the deficit in goods widened by $23.2bn to $182.5bn, with much of that jump due to rising oil imports.
The surplus in services increased by $1.2bn to $41.7bn in the first quarter.
The current account balance in the current April-to-June quarter is likely to be affected by the 11 March earthquake in Japan, which caused a fall in shipments of vehicles and parts from Japan.
Housing market flat
Meanwhile, there was little sign of a sustained pickup in the US housing market.
Construction of new homes rose to an annual rate of 560,000 in April, well below the level analysts say is necessary to sustain the market.
New homes in the US tend to cost more than existing housing stock.
"The high premium is expected to continue to sway potential buyers to existing homes and away from new ones," said Christos Shiamptanis an economist at TD Economics.
Job market
There was some better news for the US economy.
Fewer Americans applied for unemployment benefits last week, the second drop in three weeks, the US Labor Department said.
The number of people applying for unemployment benefits fell 16,000 to 414,000.
However, applications have been above 400,000 for 10 straight weeks, evidence that the job market is weak compared to earlier this year.
Applications had fallen in February to 375,000. But applications jumped in April to 478,000 - an eight-month high - and they have declined slowly since then.